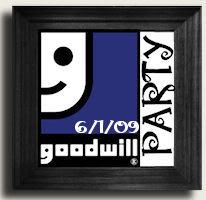 I gave it another go.
Because I'm crazy.
and because I love a bloggy party.
AND because
Sarah
called me a wus.
Me.
I'm sooo not a wus.
and just to prove it, I faced my fears head on and went back to the scariest place on earth.
The place where you can actually purchase things like this oh-so-modish piece of art:
or this faaaancy shoe doo dad:
this creepy head thingy:
or the ever present Goodwill staple:
You can get your very own foot-fungus-making machine:
or perhaps something a little more practical...
ugh. I just threw up a little in my mouth.
Just when I thought all hope was gone, like a beacon of light, a lovely little gem entered the room via squeaky rolly cart.
No. Not that.
That is the picture that you would see if
Avery
were writing this post.
She was so pumped about that crazy cash register. Especially when she found DORA play money inside.
Jackpot.
No -
this
is what I'm talking about...
Helloooo Little Lady!
$9.99 seemed a
little
steep for Goodwill to me, but it was too cute to pass up.
The best part? Since it was already painted, all it needed was a little cleaning, a little sanding... and a little more sanding.
So - I put my little munchkin to work. Kathy Lee style.
What a busy little worker bee!
Keep working! More sanding! More!
So easy even a two-year-old can do it.
I found myself covered in white dust after the sanding was over, but felt some serious satisfaction with the end result. I really enjoy painting and sanding furniture. It's kind of fun.
Every piece of furniture I "antique" brings me one step closer to getting the nerve up to distress my armoire...
See? I'm not a wus. I'm not. I'm not. I'm not!